Well, friends and family, it's time. This day has been in the making since last June, and even though it doesn't look quite like what I pictured, I'm overwhelmed with gratitude and pride.
A lot of you probably had no idea what I've been doing—she works for the internet or something, right?—but after many months of working on this project and wondering what was I thinking, it's done.
I'm officially announcing the launch of my first book.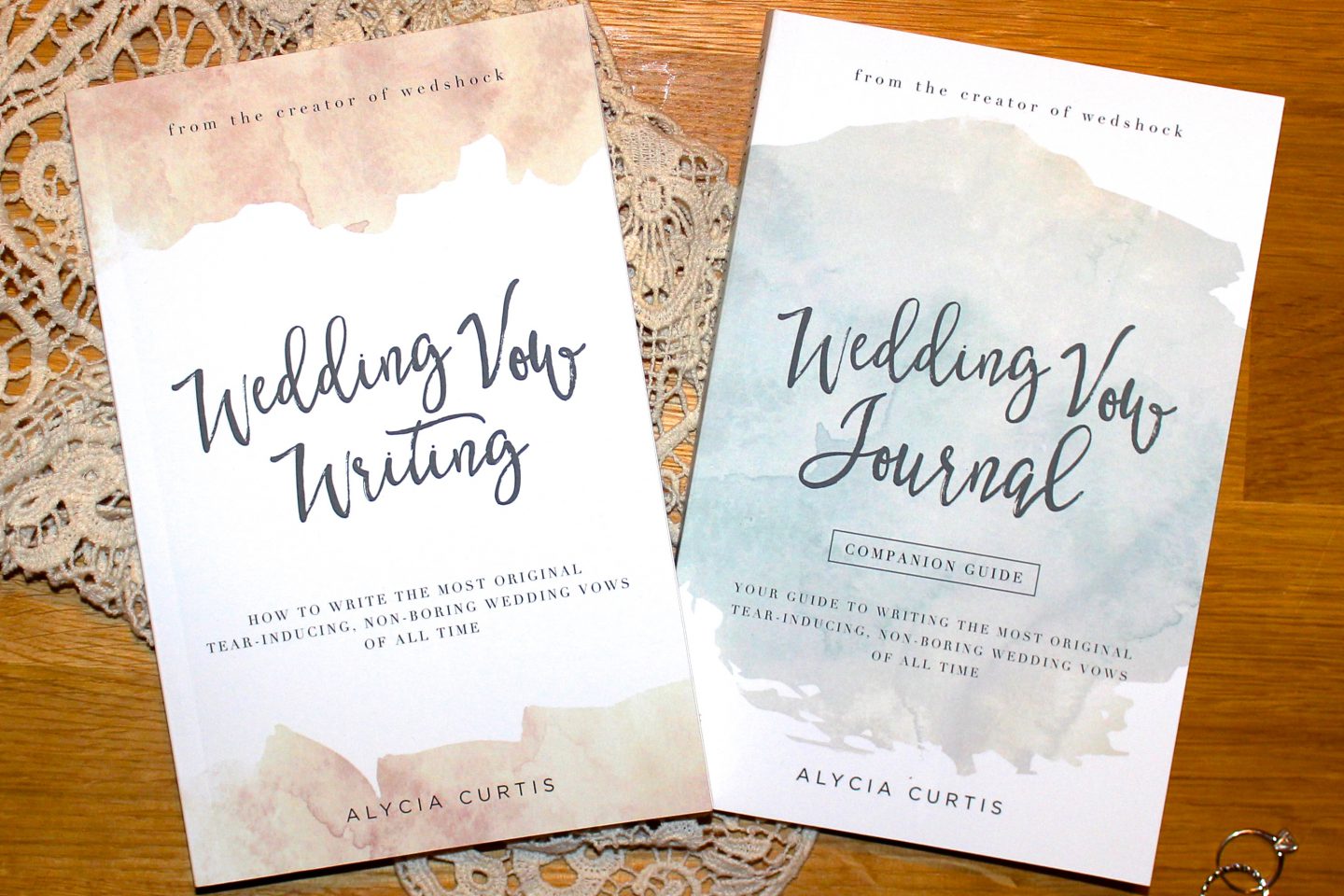 I didn't expect my first project as a professional writer to be about wedding vows. I figured it would be about politics or religion or dessert or something important like that.
But after a lot of discussion with my team about the direction we wanted to take Wedshock, we decided to cater to a major need of the bride-to-be—writing original wedding vows. I wrote my own vows for our wedding in 2013, so in this book, I utilized my experience as a bride and as a writer, and I added some humor to keep things interesting.
In Wedding Vow Writing, I offer engaged couples a ten-step process to help them write their own wedding vows. My goal was to turn a potentially stressful and tedious process into a fun, painless and engaging one.
I also wrote a Wedding Vow Journal that acts as a companion guide for the book. It's filled with exercises and prompts, and by the end of it, writers will have finished vows that are ready for their wedding day.
Friends and family, this was one of the hardest things I've ever done. Thank you for every encouraging message, every prayer, and every "you can do this." I couldn't have done it without you.
Especially you, Zach.
My next goal is to get some books sold. As much as I love accumulating them and stacking them on my desk, it would be in my company's best interest to sell a few. If you would like to support this book launch but you're not sure how, here are some things that I need help with:
Purchase a copy of the book and the companion journal on Amazon. You can find the Wedding Vow Writing book by clicking here and the Wedding Vow Journal companion guide by clicking here. If you have no use for a vow writing book/journal set, they make great gifts.
After you've purchased them, please leave a rating and review for each. These reviews help my books to get "boosted" in the Amazon algorithm for brides and grooms who are searching for wedding vow writing products. This is really helpful for my long-term sales on the platform.
Share this post on your Facebook to help me spread the word. You're probably friends with a few people who are engaged or who know someone who's engaged, so this would help me spread the word. You can also send them a private message if you'd prefer to keep your Facebook wall free of promotional posts like this one 😉
If you're in the wedding industry in any capacity, I'd love to get in touch with you. To place larger orders for your retail space, wedding venue or clients, shoot me an email for bulk pricing at aly@wedshock.com.
I feel proud of this project, and I'm thankful for the opportunity that I had to do it and for the people who are in my corner no matter what. I love y'all. Here's to many more book launches.