**Original Post from January 2015. Personal views have since changed, as they do.**
"If I find in myself desires which nothing in this world can satisfy, the only logical explanation is that I was made for another world." CS Lewis, Mere Christianity
Ever since I moved home to Texas from New York, my mind has been challenged, specifically in the area of faith and religion. I intentionally pulled myself out of the culture that created me, which allowed me to question every lesson of truth that I had been taught with clarity for the first time in my life.
To quote Libba Bray: Travel opens your mind as few other things do.
The struggle has been between my previous "everything is black and white" mindset and this new "grey area" I'm exploring. So when my new husband and I moved to Texas in March 2013, my face was excited, but my brain was panicking. I thought, "I've come so far from where I've been, to return would be a huge step backwards," which could have been reality if I hadn't paid attention.
I opened Mere Christianity by CS Lewis about six weeks ago after a summer of reading only Rob Bell. Rob Bell explained Christian concepts in such a free, honest way that I felt an instant connection, so naturally I read his five best selling books before I moved on. I was expecting Mere Christianity to be an education in Christian doctrine, but it turned out to be much more than that.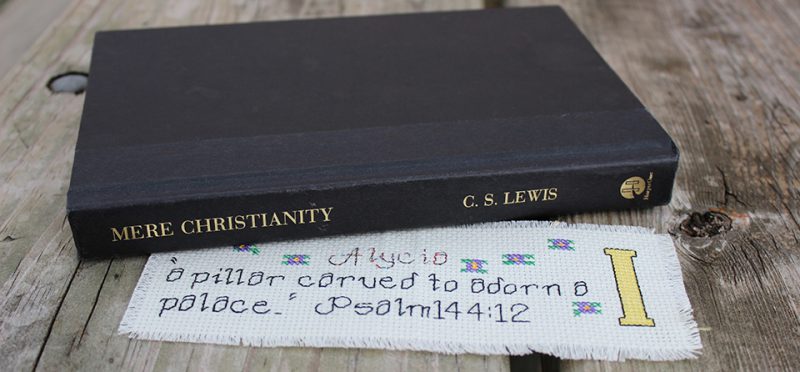 CS Lewis creates an atmosphere of freedom for his reader to think about and explore truths without a commitment to them. For example:
We do know that no man can be saved except through Christ; we do not know that only those who know Him can be saved through Him. But in the meantime, if you are worried about the people outside, the most unreasonable thing you can do is to remain outside yourself.
This honest, reasonable approach to Christianity is the reason I loved (needed) this book.
Now, if you're anything like me and you grew up in a Christian home in the south, you may know that the truth was the truth was the truth. Period. Hard questions often had simple answers like "pray about it" or "give it to God." These types of answers never satisfied me; to quote Mr. Lewis, "After all, real things are not simple." Refreshing.
Needless to say, his approach to Christianity was different from anything I had read growing up, so he had my attention.
Lewis explains complex concepts like moral failure's affect on society, and he often expands upon practical applications of Christian beliefs rather than speaking in ethereal terms that are hardly relatable. He challenges everything that I learned in Christian School about the after life and hell. He even says that the Buddhist who prioritizes and practices Christian principles within his own religion is… Christian.
It's easy to forget that modern Christian beliefs and norms have been affected by culture over time, and not everything preached from a pulpit is necessarily biblical. As young, intellectual Christians, it's important to challenge the things that we're taught so that we can make this distinction, and then we can move forward.
A 2012 study done by the Public Religion Research Institute found that over 25% of Millennials are religiously unaffiliated, and of those that are religiously affiliated, only 1 in 5 are active in a weekly religious gathering. The most educated generation of all time is the least religious, an issue that resonates deeply and that I find particularly intriguing.
I picked up this book thinking it would be my last Christian book for awhile, but instead, it gave me hope. Hope that we can come back to the root of our faith. Hope that we would be less concerned with politics and more concerned with serving our communities. Hope that education can begin reforming minds now so that our children can move forward as they should.
Christians love CS Lewis, but I'm curious if they're aware of what he has to say about all of this. I highly recommend this book to anyone attempting to understand Christianity from the outside but especially for those the inside. I'll close with one of my favorite paragraphs from the book:
Imagine yourself as a living house. God comes in to rebuild that house. At first, perhaps, you can understand what He is doing. He is getting the drains right and stopping the leaks in the roof and so on; you knew that those jobs needed doing and so you are not surprised. But presently He starts knocking the house about in a way that hurts abominably and does not seem to make any sense. What on earth is He up to? The explanation is that He is building quite a different house from the one you thought of—throwing out a new wing here, putting on an extra floor there, running up towers, making courtyards. You thought you were being made into a decent little cottage: but He is building a palace. He intends to come and live in it Himself.